No one lives in a vacuum. Modern technology lets us communicate with anyone in a second, no matter whether they are across the street or across the world. We have never been more connected. All of these connections make up your community.
Our communities support us every day. Sometimes it's in little ways, like the barista at your favorite coffee shop who has your order memorized, and sometimes it's in big ways, like the plumber who rushed over when your pipes froze.
But how do you give back to the community that has been there for you?
celito is a local company that provides high-speed fiber internet to Raleigh, and we take our position as a member of our community seriously. Not only do we provide internet solutions to local businesses, but we also value giving back to our community.
How You Can Give Back
Giving back can be intimidating. There are so many worthy organizations out there and so many little ways that you can make a difference.
We recommend starting small and focusing on your local community's needs. What changes would you like to see? What local organizations or businesses are you already passionate about supporting?
Do you see a need in your community that you could address? For example, if you notice that your kids' textbooks are worn, a school fundraiser may be in order.
Ask around to see if any organizations in your community need help. Many of them may already have volunteer groups or other formal ways that you can support them. Check with your local:
Theaters, galleries, orchestras, and other arts organizations
Youth organizations
Food banks
Veterans' and first responders' organizations
Thrift shops
Schools
Charity organizations
There are also plenty of national service organizations, such Kiwanis International or the Boys and Girls Clubs of America, that may have a chapter in your area that you can join!
Remember, giving back isn't just about money. You can also donate your time, your belongings, and even your special skills.
Some ways to give back without spending a penny include:
Tutoring or mentoring students
Participating in community cleanups
Giving old clothes to thrift shops
Donating goods or services to charity raffles
Raising awareness about a cause
When you give back to your community, you're not just saying thanks to your hometown; you're making it better, too.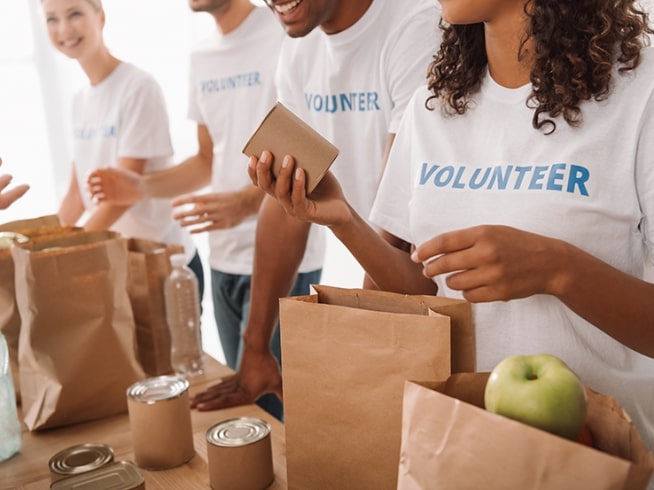 Our Favorite Local Organizations
As a Raleigh fiber internet provider, celito is heavily invested in our community. Philanthropy has been at the core of our mission from the very beginning.
We have partnered with many local organizations to fund events and raise money throughout our community.
We bring our team spirit to supporting our troops. They sacrifice so much for us every day, and the least we can do is show them our gratitude. This past year, we helped sponsor the North Carolina State Football Military Appreciation Day game.
And save the date for the Carolina Hurricanes vs. Minnesota Wild Military Appreciation game on April 2nd, 2022! As a way of expressing our gratitude, we have a special ticket offer for military personnel and their families.
celito also knows that the arts bring us together like nothing else, and we support artists who share their talents with our local community. We are proud to sponsor the Carolina Ballet, North Carolina Symphony, and North Carolina Theatre in their 2021-2022 seasons.
At celito, we are committed to making our Raleigh community better in the present, but we are also looking to the future, so we are particularly passionate about local youth organizations.
We want to ensure that every Raleigh child has a safe, supportive environment where they are free to explore and develop, and we support a variety of youth organizations, including the Frankie Lemmon School & Development Center, Marble Kids Museum, and SAFEchild.
Giving Back to Our Community with Internet Solutions
For celito, giving back isn't just about occasional philanthropy; it's what we do every day. We equip Raleigh businesses with fast, affordable business fiber internet that keeps our community thriving.
In addition to providing reliable high-speed fiber internet in Raleigh, we offer a variety of other services:
Business fiber internet
VoIP phone
Data center services
IT Consulting
Fast, friendly, and experienced support
We value our local community, and we are proud of the ways our business makes a positive impact on Raleigh.
Experience the Local Difference with celito
If you are ready to give local a shot, start by seeing if you already have celito fiber internet in Raleigh installed in your building.
Then, give us a call at 919-852-1238 or use our easy online contact form.
Our knowledgeable and capable team will work with you to create a customized plan that meets your unique needs. We know that when we make our local businesses better, we make our community better, too.